The Modern Temple: ISKCON, Chennai
Sri Sri Radha Krishna Temple (ISKCON Temple) in Chennai is a Modern Temple in looks and spirit! Fourteen years back, I remember going to ISKCON Temple in Bangalore for the first time and I was astonished to find shops, bakery, eateries, cinema theater (yes you read that right) inside that Temple!! This Krishna Temple in Chennai is a more recent one, and I thought why not visit and see what they have here.
Needless to say, ISKCON Temples are neat and well maintained. There is no entry ticket for the Temple, and I found one donation box near the footwear deposition chamber (where they request an optional donation of Rs. 2). One person was confused whether this Rs. 2 was for one pair of chappals or three pairs of chappals (for his family). Taking advantage of the ambiguity, he decided to pay only Rs. 2 in the end 🙂 There is a huge bike/car parking facility in front of the Temple.
This is the ground floor. There are two shops on the left and right of this statue where they sell Krishna books, shirts, pictures, night lamps, idols, Non/Natural Coffee, distilled cow urine, decoration items, etc. Behind this statue is a chattaram/hall where some private event was going on and they were singing Krishna bhajan. The idol of the God/Temple is in the first floor. I went at 3: 30 PM and they informed me that the Temple opens only at 4:00 PM. So I went to the,
Canteen. Have a look at what all delicacies they are selling in a Temple!! 🙂 (Above photo). I had one Puliodara and Samosa. I thought the combination might go well, but nah! 🙂
Then I went to the Temple on the first floor where they have kept the idols. This is one of the idols kept there. Yes, you can take a photograph of the idol! They however ask us not to take a photo of anything else inside the Temple, including the paintings, etc. but people were clicking everywhere!
This is the photo of another group of idols kept there. Have a look at all that woodwork! There is a large hall in front of these idols where one can sit and contemplate on the (non existent) meaning of life. While I was doing that, a Bharatanatyam dance program by some dance school students started! I watched a couple of dance performances and then left because I had to visit a Jain Temple nearby. Yes, the dance was good.
This ISKCON (International Society for Krishna Consciousness), popularly known as Hare Krishna movement, was started by Swami Prabhupada. It seems, he came to the US in 1965 on a freight ship (free lift) with equivalent of $8 USD in cash and many books. That's all he had. And within 12 years, he established hundreds of Temples and developed a devoted following across the world. Don't you think that's fascinating?
If you want to visit this Temple, you might want to take a look at the events/timing from this chart: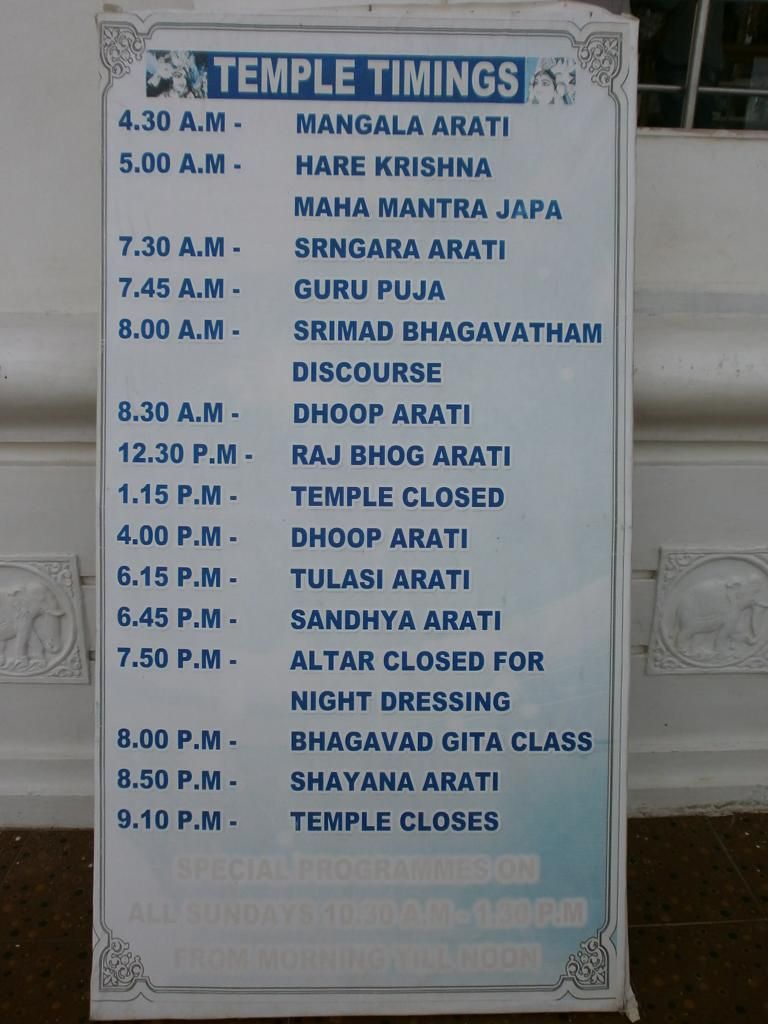 PS: While coming back from this Temple, I visited fellow Blogger Jeevan who blogs at Jeevan's World, as his home was on my way back. We had a great time and discussed a lot of things, including blogs. Here's his post on our meet.
Destination Infinity
Photos: By Destination8infinity (Own work) [CC-BY-SA-4.0 (http://creativecommons.org/licenses/by-sa/4.0)], via Wikimedia Commons.