We went to the Peppa Pig Live Musical show held today at Sir Mutha Venkata Subbarao Concert Hall, Harrington Road, Chennai. The above selfie that we took with Peppa Pig was worth all the Chennai Rains we braved to get to and return from the venue. Ain't that pig cute? 🙂
The Peppa Pig Live show is an extension of the popular TV show & Youtube channel viewed by preschool and slightly older kids across the world.
It's always a nice sight to see small kids excitedly jumping and running all across the venue, which is why we like to go to kids' shows. Today was no exception – a few kids even tried to climb to the stage while the show was on!
All the pigs (and the rabbit) were such cuties. The show was more of a musical dance but also contained short stories that were conveyed via voice-overs and appropriate action by the cast.
The props were fine – especially the amusement park set, telescope + night sky and stars set, the car + picnic set, etc. The air baloon and pigs traveling in it scene could have been handled with better/bigger props but given the storyline that may have been difficult.
The girl who was the main anchor did a great job with her emotions and communication. Among the pigs on stage, I liked Pappa pig, especially when he was wearing the magician's attire 🙂
The stories, centered around the scenes captured in the Peppa family photo album, were apt. There were a few interactive elements like a sing-along, dance-along, balloons, etc. but I felt more interactive elements could've been added.
The kids could have been given a paper with dots and asked to complete and color a Peppa Pig scene – perhaps. Or they could have been invited on stage and allowed to mingle with the family for a couple of minutes. But the kids were dancing all over the venue anyway.
Overall it was a different experience for me. Here is the full Peppa Pig family that performed at today's show –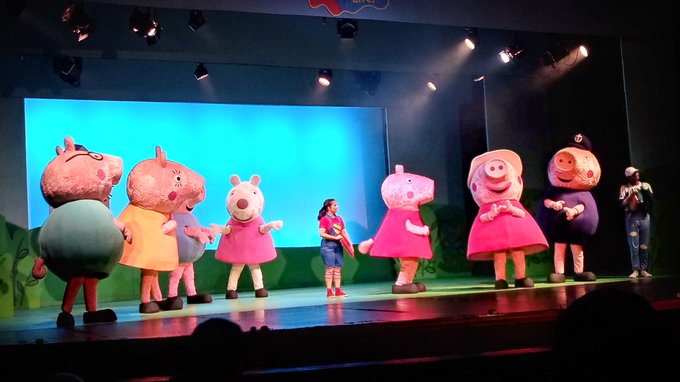 Have you been to a Peppa Pig Live show yet?
Destination Infinity
Ad: To create Professional Videos that Promote your Business at a Low Cost, visit WOWSUPER.NET