Last week I went to an event titled, "Aaharamu Arogyamu Avashyakata" roughly meaning "Importance of Food for Robust Health".
Speaker: Swami Sureswaraananda Yogi.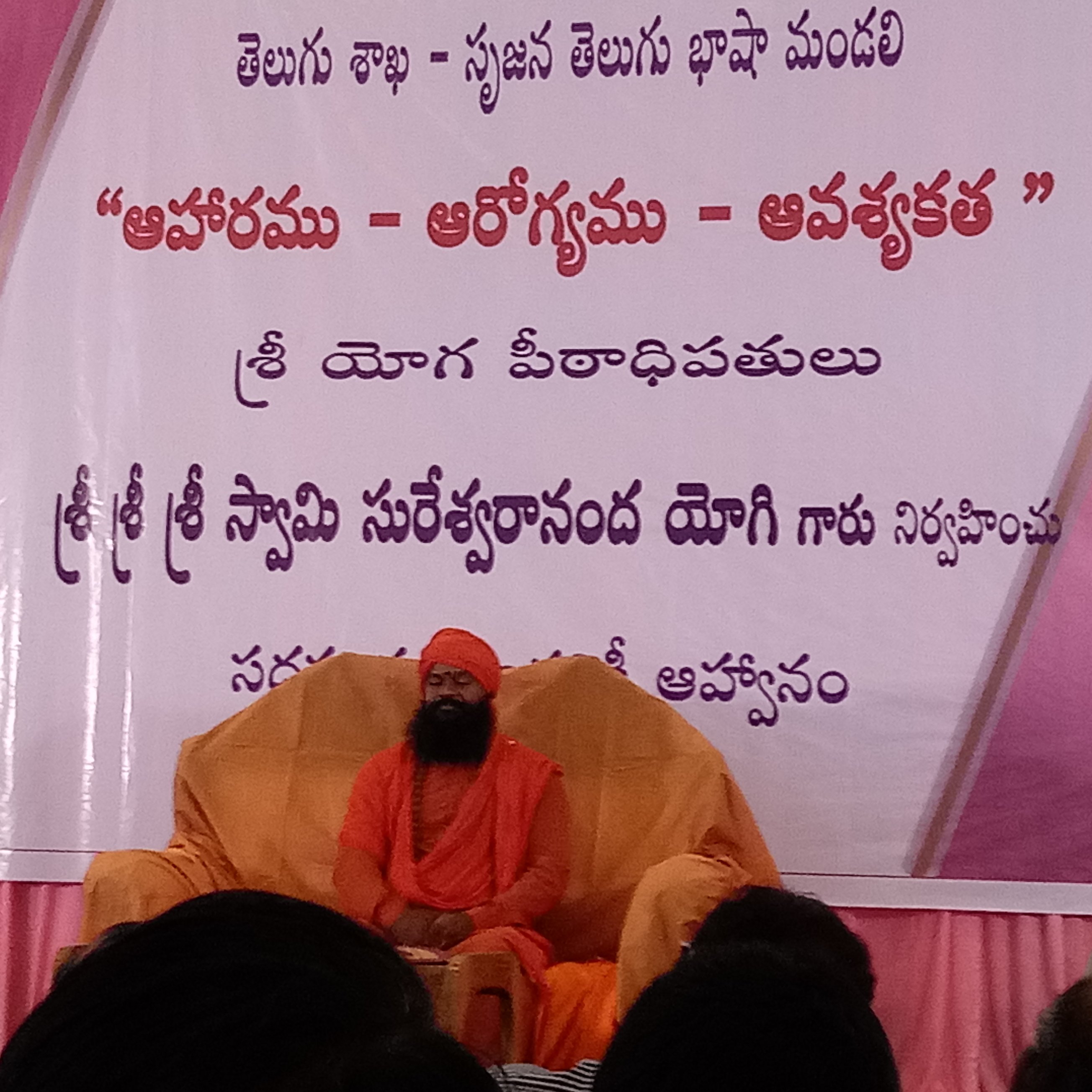 Our current lifestyle choices have turned our food into our enemy. Most health hazards can be traced to bad food habits, lack of exercise, improper breathing, etc.
Let's see how many of the following you have been practicing, and how many you'll be able to practice.
Be ready to be surprised – Almost everything we are doing with food might be WRONG!
Here are my Key Learnings from this Event –
Drink a good amount of water immediately after you wake up.
Eat your breakfast before sunrise.
Don't eat cooked food after sunset. Eat only raw fruits and vegetables.
Eat a few hours before sleeping – The stomach should be empty while sleeping.
Meditate in the mornings, Exercise in the evenings.
Eat only when you feel hungry.
It's good to drink at least one glass of water while or just after eating food. But drink in little quantities.
Munch food at least 22 times before you swallow.
Don't mix and eat two foods made from the same principle food substance – Eg. Milk and Curd.
Don't eat sweets along with meals.
Take rest (by sitting, not lying) immediately after eating. Don't walk, as the body needs that energy to digest.
Drink 4 times water for the amount of food you consume.
We should always practice deep breathing – at all times. If you inhale for 5 sec and exhale for 5 sec, you'll be able to live for 120 years.
It's imp to work (exercise) as much as we eat. And rest/sleep as much as we work. The body requires 8-12 hours of sleep every day.
Recommended Diet Plan
Mornings – Lot of carbohydrates
Afternoons – Lots of proteins
Evenings – Fruits (Vitamins)
Nights – Vegetables (Minerals)
Eat different types of fruits and vegetables – not the same ones repeatedly. Mix.
This event was organized by Sri Kanyaka Parameswari Art & Science College for Women, managed by SKPD & Charities, at SKP Convention Hall, Parrys, Chennai.
Destination Infinity
Ad: To create Professional Videos that Promote your Business at a Low Cost, visit WOWSUPER.NET