Healthy Biscuits in India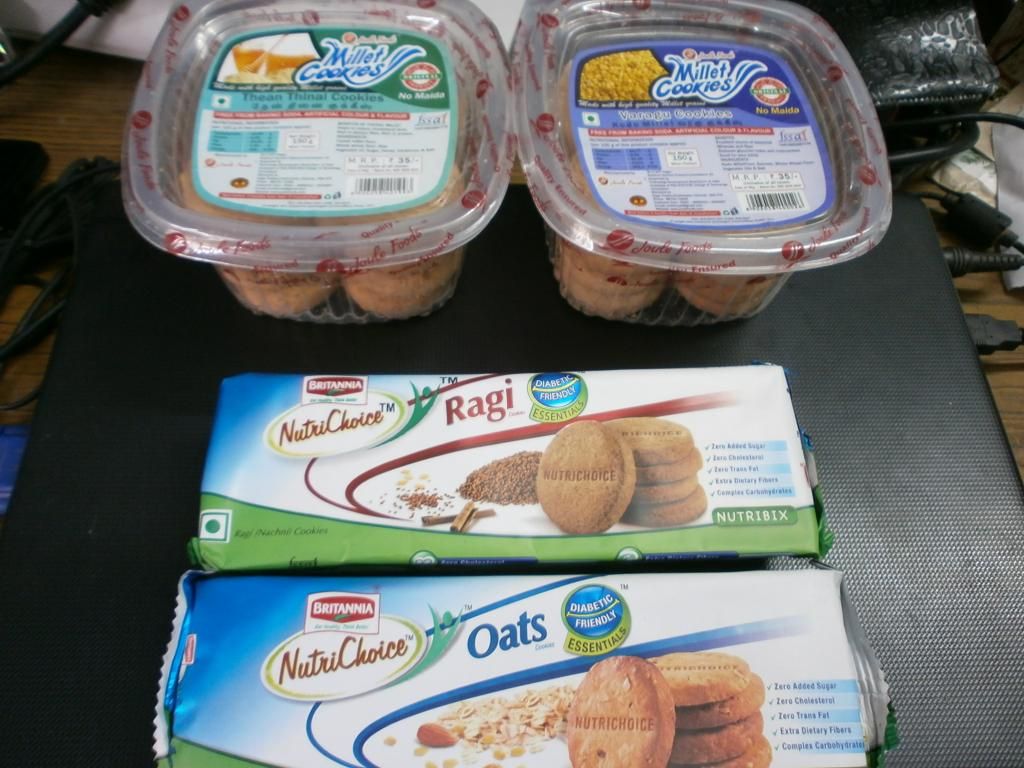 In my quest to switch over to healthy snacks here in India, I have decided to replace unhealthy biscuits with (relatively) healthy ones. My definition of a healthy biscuit is – it should not be made of maida, it should have limited sugar (should not be overly sweet), and it should not contain cream, chocolates, and other unhealthy toppings. 
So here are some options I found near my home:
Britannia NutriChoice Oats biscuits.
Britannia NutriChoice Ragi biscuits.
Millet-based biscuits. (Thean thinai; varagu – kodo millet; kambu – pearl millet/bajra; samai – little millet; kuthiravallil – barnyard millet; ragi; etc.)
Britannia also makes NutriChoice 5-Grain and Digestive biscuits, which I guess are healthy too. But the Oats and Ragi biscuits mentioned above have been labeled as 'diabetic friendly' and hence I hope my sugar-level will not rise dramatically by eating them.
I found the millet-based biscuits manufactured by Joule Foods in Organic shops and Nilgiris Supermarket near my house. These cookies are good.
These biscuits are not only healthier, but are reasonably tasty. If you are like me – health-conscious and all – you won't mind the little sacrifice of taste for healthy snacking.
Eating healthy food is the best medicine. Go ahead and switch over to healthier biscuits now.
Destination Infinity
PS: Do you know any other healthy biscuits? Let me know in the comments section.
I am Rajesh K, the author of this blog. While this blog is my hobby, I am a Freelance Video Editor by Profession. If you want to make Videos for Business or Special Occasions, do visit my other website WOWSUPER.NET to see the portfolio and get in touch.